Pioneer® brand A-Series Soybeans Make "A" Big Splash with the Big A Challenge
Published:
Iowa and Illinois FFA chapters invited to decorate Big "A" statues for the 2019 Farm Progress Show
Des Moines, IA, Sept. 12, 2018 — Just like Pioneer® brand A-Series soybeans are next-generation varieties helping growers achieve the highest yield potential on their farm, FFA helps the next generation of growers meet tomorrow's challenges head on. Together, they are teaming up for the Pioneer® brand A-Series Soybeans Big A Challenge.

Fifteen chapters from Iowa and Illinois will be selected to compete in the Big A Challenge — which will culminate at the 2019 Farm Progress Show in Decatur, Ill. — for a chance to win up to $2,500 for their chapter. The 15 chapters will decorate seven-foot-tall Big A statues, highlighting A-Series soybeans cutting-edge science and game-changing yield potential. Just as A-Series soybeans are bred using localized research and testing to fit many growing environments, the Big A statues will be uniquely designed and decorated by the selected chapters to feature their local communities.

During the 2019 Farm Progress Show, the top three finalists will be announced, with those FFA chapters winning $2,500 (first place), $1,500 (second place) or $1,000 (third place). The public also will vote for their favorite Big A on the Pioneer Twitter and Facebook accounts. A special prize will be given to the chapter that receives the People's Choice Award.

"We're excited to continue our long-running support of the FFA with the Big A Challenge," said Pat Arthur, Pioneer Soybean Category Leader. "A-Series soybeans and the FFA are a great pairing for this project, as they are both the next generation of big things in agriculture."

FFA is one of the premier youth organizations in the U.S. and helps prepare its members for leadership and careers in science, business and technology of agriculture but Pioneer is giving its members a chance to flex their creative muscles during the contest.

The Big A Challenge kicked off at the 2018 Farm Progress Show in Boone, Iowa, with seven large A statues placed around the show grounds to highlight A-Series soybeans, including one that was decorated by members of the Iowa Falls-Alden (Iowa) FFA chapter at the Pioneer tent.

To learn more about the Big A Challenge, visit pioneer.com/BigASeries. Applications open Oct. 2, 2018.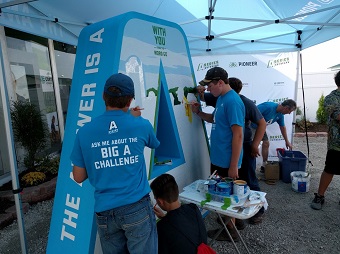 About Corteva Agriscience™, Agriculture Division of DowDuPont
Corteva Agriscience™, Agriculture Division of DowDuPont (NYSE: DWDP), is intended to become an independent, publicly traded company when the previously announced spinoff is complete by June 2019. The division combines the strengths of DuPont Pioneer, DuPont Crop Protection and Dow AgroSciences. Corteva Agriscience™ provides growers around the world with the most complete portfolio in the industry — including some of the most recognized brands in agriculture: Pioneer®, Encirca®, the newly launched Brevant™ Seeds, as well as award-winning Crop Protection products — while bringing new products to market through our solid pipeline of active chemistry and technologies. More information can be found at www.corteva.com.

Follow Corteva Agriscience™, Agriculture Division of DowDuPont, on Facebook, Instagram, LinkedIn, Twitter and YouTube.