Pioneer Brand Corn, Soybean Products Excel in 2017 Harvest
Published:
Growers Find Success with Pioneer® Brand Products Named #YieldHero
JOHNSTON, Iowa, Nov. 8, 2017 – DuPont Pioneer's commitment to bringing growers the best possible products has been validated, once again, in the weigh wagon. With outstanding yield advantages from products like the world-record setting Pioneer®brand P1197 family of products, and Pioneer® variety 31A22X, growers throughout the United States are reaping the benefits of Pioneer's investment in research, breeding and local testing.
---
"At DuPont Pioneer, we are intensely focused on providing farmers with diverse, high-performing products that perform across a variety of environments and management practices," said Judd O'Connor, DuPont Pioneer North America Region leader. "Our 2017 harvest results from thousands of on-farm comparisons validate the value of Pioneer® brand products."

Proven Heroes: Pioneer Brand Corn

The Pioneer® brand P1197 family of products continues to shine, bringing an average 7.8 bu/acre advantage to growers throughout the nation. In more than 2,825 on-farm comparisons at 828 locations, the P1197 family of products is winning 70 percent of the time against competitors.*

Additionally, one of Pioneer's newer platforms with Optimum® Leptra® insect protection against a broad spectrum of above-ground corn pests, Pioneer® hybrid P2089VYHR is leading the charge with an average 9.9 bu/acre advantage over the competition. Also included in the diverse lineup of Pioneer brand corn products are high-performing brown mid-rib (BMR) silage hybrids and corn silage products, including Pioneer® P9789AMXT™brand corn, which took Grand Champion Forage honors during the 34th World Forage Analysis Superbowl for 2017.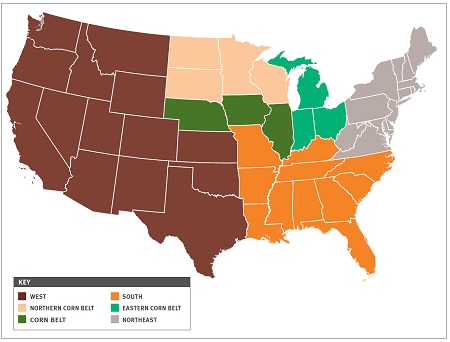 Whether on the national stage, or in a plot next door, Pioneer brand products with the Yield Hero designation — geographically selected based on a combination of factors, including local product adaptability, yield performance, defensive traits, agronomic characteristics, trait packages and grower preference — are truly top performers. Below highlights some outstanding Pioneer brand products with the Yield Hero designation in their respective regions (Fig. 1):
Iowa, Illinois and Nebraska (Corn Belt) — Pioneer® P1366AM™ brand corn — a hybrid with moderate stature, root strength and mid-season brittle snap resistance — has seen a 3.8 bu/acre average advantage over competitors.
Indiana, Michigan and Ohio (Eastern Corn Belt) — Pioneer® P1197AM™ brand corn — a leading 111 CRM product with excellent stay green and yield potential — has a 9 bu/acre average advantage against its competition.
Minnesota, South Dakota, North Dakota and Wisconsin (Northern Corn Belt) — The Pioneer®brand P0306 family of products — hybrids with exceptional roots, short stature and Optimum®AQUAmax® hybrids drought-resistance traits — is pulling away with a 7.3 bu/acre average advantage.
Southeast and Missouri (South) — Pioneer®hybrid P1870YHR — a CRM 118 product that provides exceptional stalks and strong roots — is ahead of the pack with a 5 bu/acre average advantage over its competition.
West — Pioneer® brand P1311 family of products — a moderately tall plant with a CRM of 113 ideal for producing quality silage — has a 5 bu/acre average advantage over its competition.
Northeast — Pioneer® brand P0843 family of products — a 108 CRM product with outstanding foliar health and above average northern corn leaf blight resistance — brought home a 7.5 bu/acre average advantage against competitors.
Head of the Class: Pioneer Brand A-Series Soybeans

Pioneer® brand soybeans took another step forward in 2017 with strong performance from new A-Series soybeans, the new line of soybeans with the highest yield potential of any class ever introduced by Pioneer.

Growers throughout the nation saw a step-change improvement in yield thanks to A-Series soybean varieties powered by Accelerated Yield Technology (AYT) 4.0, a proprietary research technology that has enabled Pioneer to more than double the rate of genetic gain of its research pipeline.

In 2017 on-farm and IMPACT™ — Intensively Managed Product Advancement Characterization and Training — plots, A-Series soybeans produced a 1.9 bu/acre average yield advantage on 12,615 comparisons against leading competitors across the entire lineup. Pioneer brand A-Series soybeans with Roundup Ready 2 Xtend®technology beat competitive RR2X varieties by 1.9 bu/acre in 8,792 comparisons. At 2.4 bu/acre, Pioneer brand A-Series soybeans with the LibertyLink® gene bested other LibertyLink gene varieties in 42 comparisons in on-farm trials.

Yield performance by A-Series soybeans was strong across their respective regions, with the leading A-Series varieties by volume out yielding the competition:
Iowa, Illinois and Nebraska (Corn Belt) — Pioneer® variety P31A22X — a 31 Relative Maturity (RM) product with excellent Sudden Death Syndrome tolerance — had a 4.8 bu/acre advantage and Pioneer® variety P24A80X — a 24 RM product with excellent standability and phytophtora resistance — had a 5.7 bu/acre advantage.
Indiana, Michigan and Ohio (Eastern Corn Belt) — With a 5.9 bu/acre advantage, P31A22X — a 31 RM product with strong Phytophthora resistance—led the pack, followed closely by P25A70R — a 25 RM product with good field emergence and above average tolerance to Sudden Death Syndrome — with a 2.2 bu/acre advantage.
Minnesota, South Dakota, North Dakota and Wisconsin (Northern Corn Belt) — Pioneer®variety P09A53X — a 09 RM product that offers high yield potential with good Phytophthora protection — had a 6.1 bu/acre advantage and Pioneer® variety P21A28X — a 21 RM product with multi-race SCN resistance — had a 3.0 bu/acre advantage.
South — Pioneer® variety P46A16R — a 46 chloride excluder with good SDS tolerance and above average stem canker resistance — had a 3.7 bu/acre advantage and P48A60X—a 48 RM chloride excluder with excellent stem canker resistance — had a 1.5 bu/acre advantage. In Missouri, P48A60X and P40A47X out yielded the competition by 1.3 bu/acre and 3.8 bu/acre, respectively.
West — With a 4.0 bu/acre advantage, P48A60X — a 48 RM product with strong emergence and above average harvest standability — had a strong advantage, while Pioneer® variety P42A52X — a 42 RM product well suited for both dryland and double-crop environments — had a 2. 8 bu/acre advantage.
"These results have shown growers that they can have exceptional yield with Pioneer brand A-Series soybean varieties," O'Connor said. "Our extensive localized breeding and testing program is focused on customizing varieties for local yield environments that also contain the agronomic characteristics growers need to maximize yield potential in the face of yield-robbing diseases and other stress. A-Series varieties dominated the competition in 2017."

Services, Applications Boost Potential

In addition to Pioneer's commitment to genetics, Pioneer is equally committed to helping farmers manage agronomic challenges and the environment. These R&D efforts, combined with a team of local experts and advanced services, such as the Encirca® services and Granular, Pioneer® GrowingPoint® agronomy and Pioneer Premium Seed Treatment offerings, help farmers confidently improve yields and profitability.

For example, DuPontTM LumisenaTM fungicide seed treatment, the most advanced seed applied technology to control Phytophthora in soybeans since metalaxyl, is a key part of the 2017 success of Pioneer brand soybeans. Lumisena treated beans brought in a 1.3 bu/acre advantage above the current phytophthora standard in trials with greater than 1 bu/acre difference in results, and 0.9 bu/acre advantage above the current phytophthora standard across all competitors, representing 762 locations.

Growers should work with their local Pioneer team to choose the hybrids and varieties that best fit their operations. Learn more about DuPont Pioneer products and services at pioneer.com.

About DuPont Pioneer
DuPont Pioneer, a business unit of DowDuPont Agriculture Division, is the world's leading developer and supplier of advanced plant genetics, providing high-quality seeds to farmers in more than 90 countries. Pioneer provides agronomic support and services to help increase farmer productivity and profitability and strives to develop sustainable agricultural systems for people everywhere. Science with Service Delivering Success®.

About DowDuPont Agriculture Division
DowDuPont Agriculture, a business division of DowDuPont (NYSE: DWDP), combines the strengths of DuPont Pioneer, DuPont Crop Protection and Dow AgroSciences. Together, the Agriculture division provides growers around the world with the most complete portfolio in the industry, developed through a robust research pipeline across germplasm, biotech traits and crop protection. DowDuPont Agriculture is committed to delivering innovation, helping growers increase productivity and ensuring food security for a growing global population. DowDuPont intends to separate the Agriculture division into an independent, publicly traded company. More information can be found at www.dow-dupont.com

®, ™, SM Trademarks and service marks of DuPont, Pioneer or their respective owners.

Herculex® Insect Protection technology by Dow AgroSciences and Pioneer Hi-Bred. Herculex® and the HX logo are registered trademarks of Dow AgroSciences LLC.

YieldGard® and the YieldGard Corn Borer design, Roundup Ready® and Roundup Ready 2 Xtend® are registered trademarks of Monsanto Technology LLC used under license.

Liberty®, LibertyLink® and the Water Droplet Design are trademarks of Bayer.

Agrisure® and Agrisure Viptera® are registered trademarks of, and used under license from, a Syngenta Group Company. Agrisure® technology incorporated into these seeds is commercialized under a license from Syngenta Crop Protection AG.

*Information and results, including yield advantage (bushels), win percentage or other data are reported on the average of the number of comparisons listed across the growing area. Comparisons may be against any number of competitors in similar Pioneer® brand hybrids or varieties. Multi-year and multi-location information is a better predictor of future performance. An individual plot may have been excluded based on criteria that led Pioneer to believe the results, good or bad, do not accurately represent a product. In addition, a grower may not have provided consent to release performance information. Hybrid and variety responses are variable and subject to any number of environmental, disease and pest pressures. Individual results may vary.

DO NOT APPLY DICAMBA HERBICIDE IN-CROP TO SOYBEANS WITH Roundup Ready 2 Xtend® technology unless you use a dicamba herbicide product that is specifically labeled for that use in the location where you intend to make the application. IT IS A VIOLATION OF FEDERAL AND STATE LAW TO MAKE AN IN-CROP APPLICATION OF ANY DICAMBA HERBICIDE PRODUCT ON SOYBEANS WITH Roundup Ready 2 Xtend® technology, OR ANY OTHER PESTICIDE APPLICATION, UNLESS THE PRODUCT LABELING SPECIFICALLY AUTHORIZES THE USE. Contact the U.S. EPA and your state pesticide regulatory agency with any questions about the approval status of dicamba herbicide products for in-crop use with soybeans with Roundup Ready 2 Xtend® technology.

ALWAYS READ AND FOLLOW PESTICIDE LABEL DIRECTIONS. Soybeans with Roundup Ready 2 Xtend® technology contain genes that confer tolerance to glyphosate and dicamba. Glyphosate herbicides will kill crops that are not tolerant to glyphosate. Dicamba will kill crops that are not tolerant to dicamba.

#   #   #


11/8/17