Pioneer Expands Pioneer® Brand Enlist E3™ Soybeans Availability for 2020 Planting
Published:
Varieties Planted in Select Areas, Seed Production Ramped Up This Year
JOHNSTON, Iowa, Aug. 6, 2019 — Today, Pioneer announced expanded availability of Pioneer® brand Enlist E3™ soybeans for 2020. Varieties will be available across the U.S. in a range of maturities. 

Pioneer brand Enlist E3 soybeans contain the most advanced weed control trait technology for soybeans. The soybeans provide tolerance to glyphosate, glufosinate and the new 2,4-D choline in Enlist Duo® and Enlist One® herbicides to help control glyphosate-resistant and other weeds and broadleaf grasses. 

"Pioneer brand Enlist E3 soybeans bring another weed control option to farmers, enhancing the already-strong Pioneer brand soybean lineup," said John Schartman, Pioneer Marketing Leader, Soybeans. "Local Pioneer sales representatives work closely with farmers to select the best varieties for their operation, whether they are looking for high yield potential in Pioneer® brand A-Series soybeans or a specific herbicide-tolerant trait as part of their weed-control management program."

Farmers who plant Pioneer brand Enlist E3 soybeans can apply Enlist herbicides in burndown through postemergence. 

"Enlist herbicides not only offer excellent broadleaf weed control but ease of use for farmers and applicators," Schartman said. "With tank-mix flexibility, near-zero volatility and a reduced potential for physical drift, Enlist herbicides help achieve excellent weed control, which gives Pioneer brand soybeans the opportunity to help maximize yield potential."

To learn more about Pioneer brand soybeans with Enlist E3 technology, talk to a local Pioneer sales representative or visit Pioneer.com/EnlistE3. Read more about the Enlist™ weed control system at Enlist.com.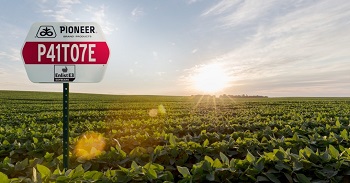 Pioneer expands its soybean lineup by adding Pioneer® brand Enlist E3 soybeans. The already-strong roster gets a boost with varieties with good yield potential and exceptional weed control. 

About Pioneer Pioneer, the flagship seed brand of Corteva Agriscience, is the world's leading developer and supplier of advanced plant genetics, providing high-quality seeds to farmers in more than 90 countries. Pioneer provides agronomic support and services to help increase farmer productivity and profitability and strives to develop sustainable agricultural systems for people everywhere. 

Join the discussion and follow Pioneer on Facebook, Twitter, Instagram and YouTube.

About Corteva Agriscience
Corteva Agriscience provides farmers around the world with the most complete input portfolio in the industry to enable them to maximize yield and profitability — including some of the most recognized brands in agriculture: Pioneer®, Granular®, Brevant™ seeds, as well as award-winning Crop Protection products — while bringing new products to market through its robust pipeline of active chemistry and technologies. The company is committed to working with stakeholders throughout the food system as it fulfills its promise to enrich the lives of those who produce and those who consume, ensuring progress for generations to come. Corteva Agriscience became an independent public company on June 1, 2019, and was previously the Agriculture Division of DowDuPont. More information can be found at www.corteva.com.

Follow Corteva Agriscience on Facebook, Instagram, LinkedIn, Twitter and YouTube.


# # #

8/6/19

®, TM, SM Trademarks and service marks of Dow AgroSciences, DuPont or Pioneer, and their affiliated companies or their respective owners. Enlist E3TM soybean technology is jointly developed and owned by Dow AgroSciences LLC and MS Technologies, LLC. Enlist Duo® and Enlist One® herbicides are not registered for sale or use in all states or counties. Contact your state pesticide regulatory agency to determine if a product is registered for sale or use in your area. Enlist Duo and Enlist One are the only 2,4-D products authorized for use with Enlist crops. Consult Enlist herbicide labels for weed species controlled. Always read and follow label directions.